New Uses
Soy can replace petroleum-based chemicals in many products. Soy-based printing inks, foams, glues, lubricants and plastics represent a few of the new uses for soy.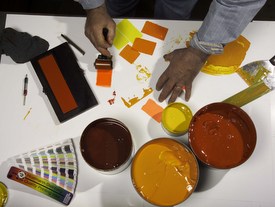 The first well-recognized new industrial soy product was an automobile panel made from soy plastic by Henry Ford in 1933. Although soy had been used in products such as paints and lubricants in the past, petroleum-based chemicals were lower in cost and more readily available after World War II.
Since then, new technologies have been discovered to include soy in many industrial products. Much of this research has been funded by soybean farmers through the soy checkoff.
With demand for fuels and chemicals growing worldwide, finite supplies of petroleum and natural gas will grow more expensive. Renewable alternatives, such as soy, have begun to play an increasingly important role as basic resources for the production of energy and chemicals. Using soy-based products not only helps conserve fossil fuels, but often enhances human and environmental safety.
The checkoff funds research and development of soy-based products, including supporting many products on the market today. Soy products represent renewable, U.S.-grown alternatives that, in some cases, outperform their petroleum-based counterparts.
Elevator Fluid Gets Environmental Lift from Soybean Oil
Did you know that the oil from U.S. soybeans can help give you a lift or bring you down with a push of a button? That's right – some 17,000 gallons of soy-based hydraulic fluid is now powering elevators across the Pennsylvania State University's 22 campuses, thanks to a list of collaborators including the Pennsylvania Soybean Board and national soy checkoff, Penn State researchers and the university's administration.
It all started in 1998, when the hydraulic hoses on tractors at the university farm leaked hydraulic fluid into the ground, causing expensive contamination of soil and water. Lysa Holland, an engineer at the university, connected with Dr. Joseph Perez, an expert on biobased fuels and oils for the solution- and the tractors started using soy based fluid. Then Holland got the idea of using soy-based fluid in the university's hydraulic elevators, an area Perez's team had been working on since 1995.
As it turned out, USDA successfully tested the soy-based elevator fluid in the Statue of Liberty in 2002. Bunge purchased the licensing agreement three years later, making the product commercially available. Since then, it's been known as AgriTech® soy-based hydraulic fluid. The state Department of Environmental Protection then approved the fluid, and all hydraulic elevators were switched to the soy-based product. "This is a perfect case history of how all concerned parties-those responsible for operations, those responsible for compliance, and those who have the scientific knowledge and skill-at a university like Penn State can work together, to advance sustainability goals," says Steven Maruszewski, the assistant vice president physical plant.
Dr. Perez credits the soy checkoff on playing a role in the early development of soy-based hydraulic fluids. "The Pennsylvania Board provided some funds for the first study on soy-based hydraulic fluid for the Penn State tractors, and USB has provided funds for study in handling the used fluid," he says.
Watch the elevators in action here.
Soy Product Used on Roads
DustKill represents just one of the many soy-based products being used in Pennsylvania. DustKill, is a safe, biodegradable alternative to chemical and petroleum-based dust suppressants. The product penetrates dirt road surfaces, binding loose gravel to dust and creating a compacted surface similar in texture to asphalt. Because soy oil is not water soluble like some traditional dust suppressants, it's a non-toxic, environmentally friendly product that lasts longer and doesn't run off into ground water. A full-rate DustKill application, which lasts about a year, effectively holds down dust, improving air quality and reducing sediment and airborne erosion from roads into streams and waterways.
Thanks to the checkoff, this product has been used on the gravel roads at Ag Progress Days and at the Penn State SEAREC research farm.