2019 Pennsylvania Soybean Contest
Each year, thousands of farmers raise soybeans on Pennsylvania farms. Pennsylvania Soybean Board invites all farmers to participate in the Pennsylvania Soybean Contest. The contest rewards quality as well as yield. The deadline to register to enter the 2019 contest is September 1, 2019.
Harvest report forms are due no later than November 15, 2019. Complete the form with verified information as indicated by the rules on the entry form, include 1 pint seed sample and a soil sample to determine nematode presence. Return soybean and soil sample in a plastic bag by November 15, 2019 to:
Delbert G. Voight, Jr., Extension Educator
c/o PA Soybean Yield Contest
Penn State Extension – Lebanon County
2120 Cornwall Road, Suite 1
Lebanon, PA 17042
Questions? Phone 717-270-4391 (717-821-0699)
2018 PA Soybean Yield Contest Winners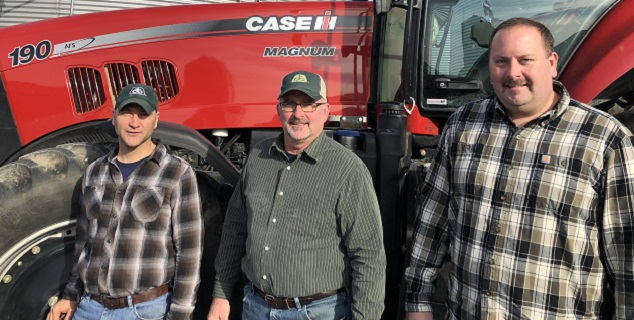 Congratulations Brian Zimmerman, Jim Hershey & Marc Hershey!
1st Place State Overall & South-Central Region –Jim Hershey, Hershey Farms (Lancaster County) 97.19 bu./acre
1st Place Central Region – Leslie Bowman, Leshers' Poultry (Franklin County) 88.75 bu./acre
1st Place Southeast Region – Tim Stewart (Bucks County) 86.21 bu./acre
1st Place Northern Region – Vernon Martin (Tioga County) 72.57 bu./acre
1st place Western Region – Thomas Hoovler (Mercer County) 71.06 bu./acre