Research Proposals
The Atlantic Soybean Council combines soybean check-off funds from its seven member states to sponsor basic and applied research to increase soybean profitability and enhance yield, while maintaining or improving soybean composition, through genetic improvement and biotic and abiotic stress mitigation.
The Council is accepting proposals to develop and coordinate a multi-state on-farm research program with the purpose of creating a multi-state On-Farm network of replicated field experiments.  The program will result in a data base that captures results over differing environments and will address common interest for the farmers in the member states.  Areas of interest identified by the Council include:
Wildlife damage management.
Nematode survey.
Dectes Stem Borer research.
Weed resistance.
Water quality issues, especially as related to the Chesapeake Bay.
Overall disease stress and resistance.
Who is Eligible to Apply:  Researchers from all land grant universities (1860, 1890, 1994), private institutions, retired university or industry professionals, as well as seed/industry professionals.
Closing Date: July 31, 2017
Funding Period:   October 1, 2017- September 30, 2018.  Maximum funding provided by the Council is $25,000 per year.
Research Proposal Application_2017_Atlantic Soybean Council
Request for Proposal_2017_ Atlantic Soybean Council
Researchers interested in submitting a proposal should provide an electronic copy in Microsoft Word format of the completed proposal to Ellen Davis at ellenmatthewsdavis@gmail.com by July 31, 2017.  Questions can be addressed to Ms. Davis at 804-366-11166.
The Pennsylvania Soybean Board (PSB) funds research projects designed to solve production problems and improve efficiency of Pennsylvania soybean farmers.
Projects undergo consideration according to the board's research priority list. There are four main focus areas:
Meal:increase the value of U.S. soybean meal to the entire value chain
Oil: increase the value of U.S.soy oil to the entire value chain
Freedom to operate: ensure that our industry and its customers have the freedom and infrastructure to operate
Customer focus: meet our customers' needs with quality soy products and services to enhance and expand our markets
Priority issues: protect and support the U.S.animal agriculture industry.
However, PSB encourages investigators to submit proposals for other research that can expand profit opportunities for soybean farmers. All proposals must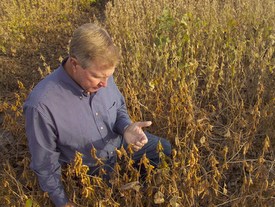 demonstrate benefits for soybean farmers.
Although the board's primary interest in weighing the funding requests focuses on producing and marketing the soybean crop, researchers should not find that confining. We encourage the broadest possible participation in the PSB funding process, and we're always eager to hear new and challenging ideas for growing, using or marketing soybeans.
Current research projects now under way.
Past research projects.