Research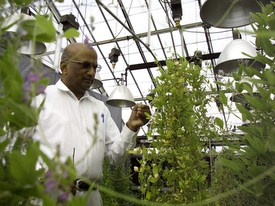 Through the soy checkoff, Pennsylvania soybean farmers invest in important research projects.  Providing farmers with cutting-edge research they can use to better manage their crops is one of the most important ways the Pennsylvania Soybean Board (PSB) serves the state's farmers.
The farmer-driven board reviews research proposals from university and industry research scientists and extension specialists from throughout the state. All funded projects intend to further the development of the soybean industry and must show a benefit to soybean farmers.
National Soybean Research Database
The National Soybean Research Database site is designed for farmers to read about on the benefits of research they spend checkoff dollars on in their states. The database is searchable by state, year and category.
Read articles and summaries about research projects
See up close information about soybean diseases and pests
Find the latest publications and resources
See what's new in soybean research
Pennsylvania's On-Farm Network
The On-Farm Network project provide real-life, on-farm production scale data to aid farmers in their ongoing crop management decision-making. Farms throughout Pennsylvania with varying field, equipment and crop conditions contribute to the projects data.