Soyfoods
Soyfoods are healthy, nutritious and they taste great! Products containing soy protein can be found throughout the supermarket. That's because soy doesn't just mean tofu. Traditional soyfoods also include soymilk, soy nuts and edamame (green soybeans), just to name a few. Food companies also develop new food products containing soy protein from veggie burgers to fortified pastas and cereals.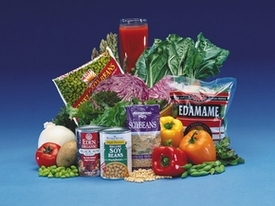 The Soy Connection
The Soy Connection, a website sponsored by the United Soybean Board, provides a Product Overview expanding on the many types of food products containing soy.
Food scientists will want to view the functional characteristic chart to see the benefits of including soy in various food systems.
Both manufacturers and food service professionals creating healthier meals for children will want to visit the "Products for Kids" section to see how soy can help with that challenge.
Need personalized advice?  A Soyfoods Expert is on hand to answer technical questions from food professionals.
Additionally, a great tool for the general public seeking quick tips, recipes and information about soyfoods in the free Soyfoods Guide.